CUSTOMIZE YOUR MYSPACE & TWITTER!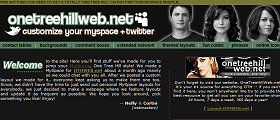 Want to spruce up with your MySpace or Twitter profile? Yes, we said spruce. Anyway, we've made that possible with our Customize Your MySpace & Twitter Profile sub-site!

You'll find cool contact tables, backgrounds, extended network boxes, blinkies, and fun graphics to use on your profile and show your support for your favorite show! | Click to PROCEED

VISIT KAREN'S CAFE!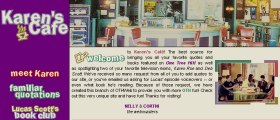 Looking for quotes from the show? Saw Lucas reading a book you're interested in checking out? Well, now you can!

Take a break, relax, and curl up with a great quote at our literary sub-site Karen's Cafe! | Click to PROCEED