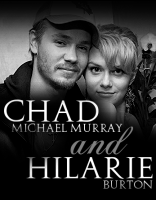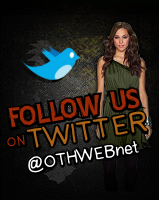 One Tree Hill
soundtrack

US List Price: $18.98 CD


Friends with Benefit: Vol. 2
soundtrack

US List Price: $18.98 CD


The Road Mix: Vol. 3
soundtrack

US List Price: $12.97 CD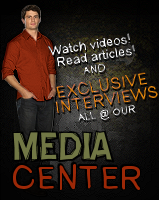 to ONETREEHILLWEB.net, the LARGEST, EXCLUSIVE and most ORIGINAL "One Tree Hill" resource since 2003! As one of the first sites dedicated to the television series, we continue to provide anything and everything you want and need to know about your favorite show!

Here you'll find it all -- the only and official One Tree Hill Music Guide, our complete division devoted to the fashion worn on and off the show by your favorite characters and cast members - TreeHillStyle.com, get the most up-to-the-minute and accurate news and information, read our thoughts, ramblings, exclusives, and more at our BLOG, the first and most essential OTH photo gallery, awesome contest, interviews with the talented cast and crew at our Media Center, GLOBAL updates, downloads and games, character profiles, spoilers, and details on filming locations and background acting.

Don't forget to add us to your friends list at our Official MySpace Profile before you FOLLOW US on Twitter! You can show your pride with our Customize Your MySpace Profile page that also features OTH-style Twitter backgrounds.

You can find all of this and more here at OTHWEBnet -- we hope you enjoy the site and send us your feedback! We're always working hard and looking for ways to make your ULTIMATE one-stop OTH-spot the best it can be. We're here 24 hours a day. 7 days a week. 365 days a year. There is only One Tree Hill ... Web.net!

LISTEN UP! If you're a fan of "One Tree Hill" and this website, then make sure to visit us over at our on-line entertainment magazine, FANVASION.com! Get the latest buzz in Hollywood and check out interviews with your favorite celebrities, read about up-and-coming stars you haven't heard of--but you will, and to all of your fashion lovers out there--find out who's wearing what and how can YOU get it! It's all there!



Sunday // December 16, 2012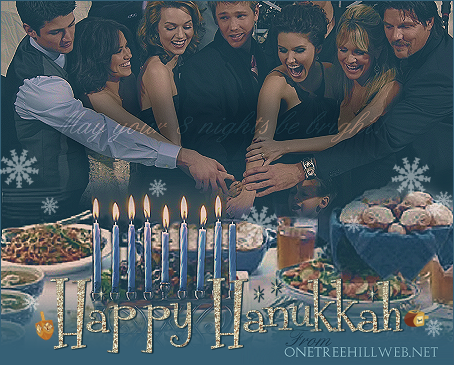 Although this has been a somber weekend, we wish those who celebrate a beautiful end to their Hanukkah holiday. We continue to send our prayers and thoughts for strength and faith to the victims families in Newtown, CT who are going through the unimaginable.

The band OneRepublic started a fund to raise money for the families affected by the tragedy at Sandy Hook Elementary. Find details on how to donate here: http://www.indiegogo.com/OneRepublicForSandyHook

- Nelly & Cortni
Posted at: 2:15 PM EST by Cortni | back to top
Thursday // November 22, 2012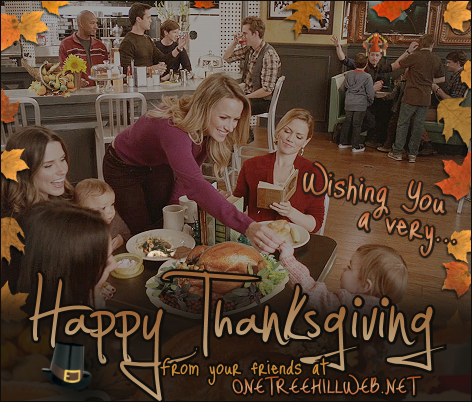 To all of our American friends, we wish you a very special and Happy Thanksgiving! We have a lot to be thankful for this year, including being grateful for your continued support despite the fact that One Tree Hill came to an end this past spring. We hope you eat lots of turkey and pie, and enjoy the holiday with your loved ones. This actually goes to everyone---whether you celebrate "Turkey Day" or not. Lots of love to all!

*Gobble Gobble*

Nelly & Cortni
Posted at: 1:32 PM EST by Cortni | back to top
Thursday // November 22, 2012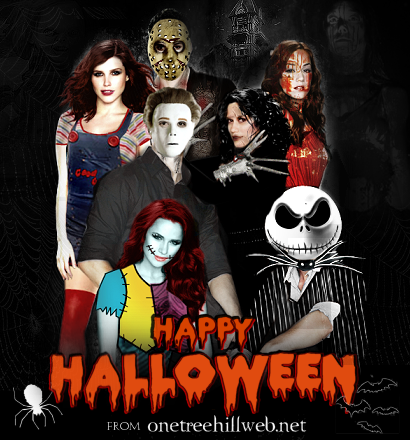 We just realized we never posted this on because of Hurricane Sandy knocking our power out for a long time. Regardless, we wanted to upload it now because it was fun. :) Hope you all had a safe and Happy Halloween!

Your friends at OTHWebnet,
Nelly & Cortni
Posted at: 1:25 PM EST by Cortni | back to top
Friday // July 6, 2012
SOPHIA HAS BEEN A BUSY GIRL! & CHAD HITS MONACO
You would think after nine straight seasons Sophia would want to take a much deserved vacation, but it sure doesn't seem like she's slowing down at all. Not only does she have a new show, Partners (coming to CBS Mondays this Fall), but she's been making many appearances on the red carpet lately.

Check out a few photos from some recent events that have been added to the gallery.

APPEARANCES:
- 3rd Annual Origins Rocks Earth Month - April 18th
- 2012 CFDA Fashion Awards - June 4th
- 14th Annual Young Hollywood Awards Presented By Bing - June 14th
- Warner Bros. Pictures' "Magic Mike" Premiere - June 24th

CANDIDS:
- Arriving at LAX Airport - June 5th
- Shopping in West Hollywood - June 13th

Sophia isn't the only cast member out and about lately. Chad Michael Murray was recently in Monaco with fianc Kenzie Dalton for the Monte Carlo TV Festival.

- Chad & Kenzie Arriving in Nice - June 12th
- 52nd Monte Carlo TV Festival - Cocktail Part y - June 13th
- 52nd Monte Carlo TV Festival Closing Ceremony - June 14th

RELATED ARTICLES:
- Sophia Bush in A.L.C. | Magic Mike 2012 LA Film Festival Premiere | Fashion Court
- Sophia Bush in David Meister | 2012 CFDA Fashion Awards | The Fashion Court
- Sophia Bush & Mandy Moore - CFDA Fashion Awards 2012 | JustJared
- Sophia Bush in Herve Leger | Young Hollywood Awards 2012 | The Fashion Court
- Sophia Bush in Kimberly Ovitz | 3rd Annual Origins Rocks Earth Month Concert | The Fashion Court

MARK SCHWAHN TALKS RACHEL'S FUTURE, PLUS THAT OTHER UNANSWERED QUESTION
via Zap2it -- "One Tree Hill" ended almost two months ago, but we're still not really over it. This weekend, Zap2it attended the ATX Festival, a weekend-long celebration of all things television in Austin, Texas. While we managed to resist presenting executive producer Mark Schwahn with a mason jar filled with our finale tears, we couldn't help but ask him about a few of the show's loose ends.

One of our favorite secondary characters of the series, Rachel (Danneel Ackles), wasn't mentioned in the final season, despite her significant contribution to the Tree Hill mythology. Though she did go through an unfortunate junkie phase, Schwahn tells us that in his mind, Rachel landed on her feet.

"Rachel's obviously fine," Schwahn promises. | Continue reading...

OTH CREATOR MARK SCHWAHN SHARES THE SERIES ENDING THAT NEVER HAPPENED
via TV Guide -- Although One Tree Hill's series finale ended with the emotions creator Mark Schwahn always imagined, it didn't involve the characters he initially pictured.

"In my mind, when the show first started, we probably would've ended up in the series finale with a Karen-Keith-Lucas scenario and they would've become the family they never were," Schwahn told TVGuide.com at the inaugural ATX Television Festival. "Tonally it never changed for me. I always knew where I wanted to leave the show. I wanted it to be something that the fans invested since Day 1 felt like was speaking to them." | Continue reading...
Posted at: 11:46 PM EST by Nelly | back to top
Wednesday // July 4, 2012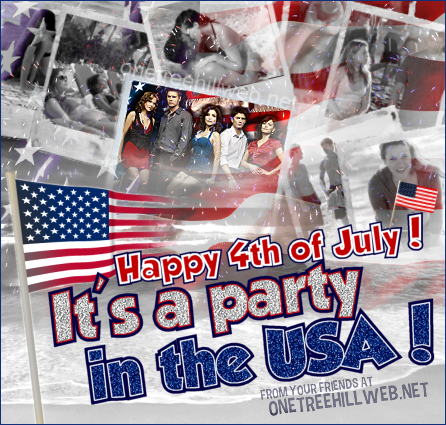 To all of our amazing American visitors: We hope you all have a very happy and safe Independence Day! Whether you're celebrating at the beach, with a BBQ, hanging at the pool or seeing a movie -- we hope it's memorable!
! HAVE A HAPPY FOURTH OF JULY !
Your friends at OTHWebnet,
Nelly & Cortni
Posted at: 2:15 PM EST by Cortni | back to top
Tuesday // May 1, 2012
Well, this feels weird ... it's been a few weeks now since the series finale, and it still feels strange to be over. :-/

As we've said before though, at this time we have no plans to close OTHWebnet. Over these last few weeks we've been working on other projects, but plan to make updates here for you to stay up-to-date on new projects and happenings with cast and crew of One Tree Hill.

We'll also be running giveaways and following new cast projects over at our other home Fanvasion.com, which we are currently running a pretty big Tyler Hilton contest.

You can still chat with us over on our Twitter and Facebook pages as well. Also, if you're a Twitter addict like the both of us follow @chanellejustice (Nelly) and @courtjustice (Cortni)!

MONTH LONG OF TYLER HILTON PRIZES YOU CAN WIN!
Since completing his final run in Tree Hill, Tyler has been on the road promoting his third studio album called Forget The Storm. To celebrate the newly released record, we re dubbing the month of May TYLER HILTON MONTH ! Yep, you read that right all Tyler, all the time! We re talking prizes, concert tickets, phone calls with our guy Ty and fun games for the next few weeks.

Click the banner below for your chance to win a PERSONALIZED autographed CD!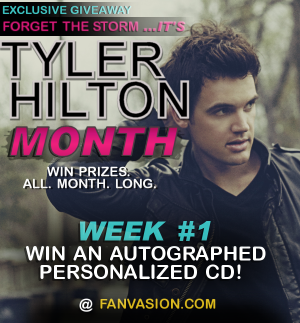 TREE HILL'S FINALE: BURNING QUESTIONS ANSWERED
via TV Line -- It s been a little over a week since we said a sad so long to Nathan Scott & Co., and since we re still in the early stages of mourning (aka denial) we decided a trip back to One Tree Hill was in order.

Here, creator Mark Schwahn and star James Lafferty relive the series finale and answer your lingering questions, which likely include What about Peyton? Why Bevin? And, of course, How come no one in Tree Hill ages?!

Were any scenes cut from the series finale? | Schwahn tells us that, thankfully, the network agreed to air the uncut OTH finale, so we ve seen it all. Ready to be shocked? Had the edited version been broadcast, the I Don t Want to Be singalong would have been scrapped! [That edit] was really odd, he muses. | Continue reading...


SOPHIA BUSH DISHES ON LIFE AFTER 'ONE TREE HILL': "I'M HAPPIER THAN I'VE EVER BEEN!"
via OK! -- Sophia Bush was glowing last night as she hosted the Origins Rocks Earth Month Concert at Webster Hall in NYC, and it wasn't because she's been enjoying some down time since her hit show One Tree Hill wrapped. Actually, Sophia admits she hasn't had any down time since shooting ended in November!

"It s been interesting," Sophia told OK! at the concert last night of life after OTH. "I miss seeing our camera operators and our wardrobe department and the grips everyday, but I missed being home so much! It s so wonderful to be there." | Continue reading...

ONE TREE HILL EXAMINER.COM TALKS WITH CAST MEMBERS & PASSES ON A FEW MESSAGES
Meriam who runs One Tree Hill Examiner recently chatted with One Tree Hill stars James Lafferty, and Stephen Colletti and even Creator/Executive Producer Mark Schwahn about lessons to live by and even a few messages to pass along to One Tree Hill fans. Check 'em out!

- James Lafferty Shares His Pride For 'One Tree Hill' & The Lessons He Lives By
- Stephen Colletti's Message To One Tree Hill Fans: 'Stay True To Yourself'
- Mark Schwahn To "One Tree Hill" Fans "Thank You For Everything"

THE "ONE TREE HILL" SMACKDOWN WE'LL NEVER GET TO SEE
via StarNews Online -- Full disclosure: I am not a shipper by nature. I do not base the merits of a TV show on whether or not any characters end up together. I d be fine if Castle and Beckett just flirted and dated other people for another 6 seasons of Castle, for example. But there was one One Tree Hill couple, though, that I always wanted to share more screen time and not necessarily in a romantic way.

Since season five, dastardly Dan Scott (Paul Johansson) and icy Victoria Davis (Daphne Zuniga) were the only consistent adult characters on the show. (All the other main characters were in their 20s by that season, but you know what I mean.)

Both could be deliciously evil. Both had complicated relationships with their offspring. Both elevated every scene they were in. But they were almost never in a scene together.

I really, really, really wanted them to be. And I didn t really care about the circumstances. | Continue reading...


'ONE TREE HILL' STAR JAMES LAFFERTY REFLECTS BACK, RESPONDS TO TWITTER FAN QUESTIONS
via Ology -- As Nathan Scott put it Wednesday night on One Tree Hill s final farewell episode, Don t tell me I never gave you anything. With nine seasons of first romances, heartbreak, deaths, stalkers, births, basketball games and more stalkers, the CW series gave us absolutely everything we could ask for. Something that could never be re-crafted ever again. The storylines, the characters we wanted to be friends with, the soundtracks and the heartfelt messages rushed back as Gavin DeGraw sang his last I Don t Want To Be melody with the cast singing along.

Without hesitation, of course we ll admit to singing with them while glued to our television sets last night.

Lead stars James Lafferty, Sophia Bush and Bethany Joy Lenz gave us nine years of fantastic performances and left us happily admitting that there will always and forever be just one Tree Hill.

As the episode concluded, fans continued to flock to Twitter to reflect on their younger years with the series. Meanwhile, Lafferty had been answering questions from the viewers beginning on March 29 all along in anticipation for when the final credits aired. | Continue reading...

CHAD MICHAEL MURRAY STEPS OUT WITH FIANCE KENZIE AND VISITS CHICAGO
For awhile now Chad has been promoting his graphic novel Everlast, which you can learn more about HERE. He recently made a trip out to Chicago to visit the 2012 Chicago Comic and Entertainment Expo, held on April 14th. Earlier that week he was spotted out and about with finace Kenzie Dalton visiting K Chocolatier and grabbing Starbucks.
Posted at: 5:25 PM EST by Nelly | back to top
Wednesday // April 4, 2012
That day is here :( TONIGHT we say #GoodnightOneTreeHill with a 2-hour Series Finale!

Just a warning the following posts, articles, videos may be spoiler-ish for you as everything is either a look back on Tree Hill memories or about the series finale.


"GOODNIGHT, ONE TREE HILL" A MESSAGE FROM JOY
Well, tonight at 8pm One Tree Hill will air it's final episode ever, after 9 seasons. I couldn't let today go by without paying homage to the show where I grew up, where I learned some of my most important life lessons, where I learned about being part of a team and being a professional, and where I fell in love with a little town and its beautiful people.

I remember my screen test for the character of "Reagan" (later to be changed to "Haley"). During my test I was in a room full of executives while reading the scene with Chad Michael Murray and there were about 4 other girls going for the part, waiting in the hallway. There was a moment about halfway through the reading when I was sitting next to Chad and I playfully knocked the side of his leg with mine. I felt the energy of the whole room shift and I knew at that moment I had gotten the part. As I walked out to my car, Chad chased me down on the WB parking lot and said "Bethany!" I turned and he gave me a big hug, saying, "Congratulations." I smiled thinking that was very sweet of him but I'd been in this business long enough to know that nothing's for sure until you see it on screen. Sure enough, a few hours later I got a phone call that I had 7 days to pack up my life and move to Wilmington, North Carolina. | Continue reading...

VIDEOS: ONE TREE HILL - THE FINAL SEASON
The CW has been posting tons of behind-the-scenes videos on their YouTube account, most of which are just silly happening on set. Check out the latest below.

One Tree Hill - James Lafferty
James Lafferty discusses the show's changes as well as its consistency over 9 years.
MORE VIDEOS:
- One Tree Hill - Antwon Tanner | Skills had faith.
- One Tree Hill - Allison Munn | First day of shooting.
- One Tree Hill - Austin Nichols | Shares his directing tips.
- One Tree Hill - Barbara Alyn Woods | Deb Scott returns to Tree Hill.
- One Tree Hill - Officer Stevens | From stand in to guest role.

TAKE A TRIP DOWN MEMORY LANE!
With the series finale just a few hours away, many are taking a trip down memory lane and putting together some of Tree Hill's best moments. Join in and check out some of these great memories. Then check out some of OUR own personal ones and view our photos on Facebook!

MEMORABLE MOMENTS:
- The Top 10 'One Tree Hill' Episodes Of All Time | Ology
- 50 Reasons We'll Always Love One Tree Hill | Buddy TV
- One Tree Hill: Most Memorable Moments (Part 1) | TV Fanatic
- One Tree Hill: Most Memorable Moments (Part 2) | TV Fanatic
- 5 Most Shocking 'One Tree Hill' Moments | MTV Hollywood Crush
- 'One Tree Hill' says goodbye: Ten first kisses we'll never forget | Zap2it
- The Best & Worst of 'One Tree Hill': 99 most memorable moments | Zap2it
- Goodbye, One Tree Hill: 8 Most Memorable Moments of the Past 9 Seasons | TV.com
- 'One Tree Hill' bows out: A thank-you letter to Brooke Davis, for being more than enough | Zap2it

ONE TREE HILL SERIES FINALE PREVIEW: TIME TO SAY GOODBYE
via E! Online -- One Tree Hill is ending tonight.

It was tough to type that sentence. But tonight, on the CW, we officially say goodbye to the gang on One Tree Hill after nine roller-coaster seasons. Want to prepare yourself for the two-hour sendoff? We've got all the previews and photos you need to celebrate One Tree Hill day! That's right, we made it a national Internet holiday. You can't stop us...
| Continue reading...


'ONE TREE HILL' CREATOR MARK SCHWAHN AND STAR SOPHIA BUSH REFLECT ON THE SERIES FINALE
via Hollywood Reporter -- On Wednesday, the final episode of The CW's One Tree Hill will air, wrapping up nine seasons of drama, romance and growing up. Over the past nine years, the residents of Tree Hill have matured from awkward, misguided teens to confident adults, while dealing with the dramatic dangers of life in Tree Hill including school shootings, kidnappings and murder.

The majority of the heavy conflicts from season nine including Nathan s (James Lafferty) kidnapping and the return of Brooke s (Sophia Bush) attacker Xavier (Devin McGee) have been resolved, so the final two hours of the show will focus on saying good bye to these characters and the world of Tree Hill. | Continue reading...

EXCLUSIVE: "ONE TREE HILL" STAR SHANTEL VANSANTEN IN THE CTV STUDIOS
via Clevver TV -- It s hard to believe that after 9 seasons, the CW s One Tree Hill will come to an end tomorrow.

The big 2-hour series finale airs tomorrow night on the CW at 8pm and we had Shantel VanSanten, who plays Quinn, in the ClevverTV studios to talk all about the finale and her favorite memories from the show. Check out our gallery of photos from the studio and from the finale below.

In addtion, Shantel told us more about the great organization she s the spokesperson for, Team True Beauty. The campaign that focuses on girl s healthy body images. Their mission is to help everyone feel confident in who they are and embrace themselves. It s such an inspiring campaign, and to learn more, visit teamtruebeauty.com. | Continue...

Shantel VanSanten Interview - One Tree Hill Finale Details

TYLER HILTON ON BIG MORNING BUZZ LIVE!
Yesterday morning Tyler Hilton appeared on VH1's morning show Big Morning Buzz! CLICK HERE to catch the video where Tyler talks about watch the Buzz in his PJ's, his new album "Forget the Storm" and the series finale of One Tree Hill.

"ONE TREE HILL" CAST, CREATORS LOOK BACK ON NINE YEARS
via StarNews Online -- It's been nine years since "One Tree Hill" began its life in Wilmington. To commemorate the series finale (8 p.m. Wednesday, April4, on The CW), StarNews TV columnist Jeff Hidek conducted more than a dozen interviews with the show's cast and producers and attended fan events in Wilmington and Los Angeles in which those closest to the series reflect on their uncertain beginnings, passionate fans and favorite experiences in the Port City.

In spring 2003, as "Dawson's Creek" wrapped its final season of production, a pilot for another Warner Bros. series filmed in Wilmington. The pilot, titled "Ravens," was created by Mark Schwahn and produced by the team of Mike Tollin and Brian Robbins. It focused on teen half-brothers Nathan and Lucas, who lived in the small North Carolina town of Tree Hill and sparred with each other on the basketball court while navigating high-school romances and parental drama. | Continue reading...
Posted at: 2:01 PM EST by Nelly | back to top Edited at: 5:00 PM
Tuesday // April 3, 2012
Just a warning the following posts, articles, videos may be spoiler-ish for you as everything is either a look back on Tree Hill memories or about the series finale tomorrow.

VIDEOS: EP #9.13 "ONE TREE HILL" PRODUCER PREVIEW
Watch the last One Tree Hill Producer Preview for the 2-hour series finale tomorrow night. Check out episode stills in the gallery!

Mark Schwahn grows reminiscent of all those moments that have led to this final episode. Don't miss the One Tree Hill 2-hour series finale, Wednesday at 8/7c.

Brooke makes a surreal visit to the set of the room she grew up in.

ALSO: One Tree Hill - One Tree Hill Preview (:20)
RELATED ARTICLES:
- Sophia Bush: 'One Tree Hill' Finale Sneak Peek! | Just Jared
- One Tree Hill Finale Clip: A Walk Down Peyton Lane | TV Fanatic
- 'One Tree Hill' Series Finale Preview: A Love Letter to the Fans | Buddy TV
- 'OTH' series finale: Brooke returns to Peyton's room in a 'love letter to the fans' | Zap2it


TYLER HILTON'S "FORGET THE STORM" NOW ON ITUNES
The wait is finally over! Tyler Hilton's new album "Forget the Storm" was released today! Make sure you go pick it up on iTunes! - BUY NOW

It's an amazing album that you NEED to listen too! :)

RELATED ARTICLE:
- 'One Tree Hill's' Tyler Hilton bids farewell to foul weather with 'Forget the Storm' | Zap2it

'ONE TREE HILL': WHERE'S WHITEY? MARK SCHWAHN SPILLS ON COACH DURHAM'S LIFE POST-RAVENS
via Zap2it -- "One Tree Hill" will bow out in a two-hour farewell event on Wednesday -- at least, for the time being. Several familiar faces, like Dan Scott (Paul Johansson) and Chris Keller (Tyler Hilton), returned for the final season. Even more old pals will be seen in Wednesday's series finale. One person who we haven't checked on for a while, though, is Coach Whitey Durham.

We caught up with executive producer Mark Schwahn for one last talk about the show, which, through nine seasons, has spanned over 15 years of its characters' lives. Of course, we had to ask him about our favorite crotchety old coach. Barry Corbin played the role to perfection in the first four seasons of the series -- guiding the kids (and their parents) with an alternately gentle hand and iron fist.

oth-dan-whitey.jpgThe last time we saw him was in Season 6, when Dan visited him on his ranch and begged Whitey to kill him, putting him out of his misery. Wisely, Whitey refused. Since then, there's been nary a mention of the old guy.

Fear not, "OTH" fans -- Whitey isn't dead. | Continue reading...


EXCLUSIVE ONE TREE HILL FINALE VIDEO: BROOKE AND HALEY LEAVE THEIR MARK
via TV Line -- The CW s One Tree Hill concludes its memorable (and sometimes outrageous!) nine-season run this Wednesday at 8/7c, with a two-hour swan song, and we have your exclusive first look at the emotional farewell.

The following clip, from the aptly titled finale One Tree Hill , finds life-long residents Brooke and Haley reminiscing about old times, and, once again, leaving their indelible mark on the tiny town. | Continue...

'ONE TREE HILL': 187 EPISODES IN 187 WORDS
via Zap2it -- When One Tree Hill reached its 100th episode, I summed up the series in 100 words. Now that the show is ending with its 187th episode Wednesday night, I thought I d update and revisit my summary.

Trying to sum up 9 years of relationships, psycho stalkers, weddings, births, deaths and songs into 187 words ain t easy.

But here you go: A recap of the show s 187 episodes in 187 words:

Half-brothers Lucas and Nathan play high school hoops. Evil dad Dan pressures Nathan, ignores Lucas. Nathan dates his tutor, Haley, best friend of Lucas, who pines for music-loving Peyton. Cheerleader Brooke wants Lucas, too. Nathan marries Haley. Lucas dates Peyton. New characters arrive. Then leave. Haley sings. Lucas dates Brooke. | Continue reading...

EXCLUSIVE VIDEO: WATCH ONE OF THE FINAL SCENES FROM THE RIVERCOURT
via TV Guide -- In One Tree Hill's final scenes from River Court, one of the show's most sentimental central locations, Nathan explains to his son Jamie that there's more to life than basketball a lesson Nathan's own father certainly never taught him.

The cast of One Tree Hill shares their all-time favorite episodes

"People are going to expect you to be really great at sports," Nathan (James Lafferty) tells Jamie (Jackson Brundage). "But the important thing to remember is that you don't have any responsibility to any of those people. Not to them, not to me. You have to find what makes you happy." | Continue...
Posted at: 9:12 PM EST by Nelly | back to top
Monday // April 2, 2012
Just a warning the following posts, articles, videos may be spoiler-ish for you as everything is either a look back on Tree Hill memories or about the series finale.
HAPPY BIRTHDAY SHOUT OUT TO BETHANY JOY!


MARK SCHWAHN IDENTIFIES THE TREE IN 'ONE TREE HILL'
via StarNews Online -- The name of One Tree Hill doesn t really have anything to do with trees or hills. The show is named after a U2 song and takes place in a town called Tree Hill.

But over the years, plenty of jokes have been made about the title of locally filmed drama One Tree Hill. Recently at a press event in Pasadena, Calif., a fellow reporter (jokingly, I think) asked series creator Mark Schwahn about the location the titular tree in Wilmington.

We couldn t find a hill! Schwahn quipped back. (It s true. Wilmington is pretty flat. Beach towns are like that.) | Continue reading...

WILL 'ONE TREE HILL' LIVE ON? EXECUTIVE PRODUCER MARK SCHWAHN WOULD CONSIDER A REUNION
via Zap2it -- This Wednesday, fans will watch the final episode of "One Tree Hill" when the ninth season wraps with a two-hour goodbye event on The CW. Though we'll bid farewell to our favorite characters, the show lives on within the show, as Julian combines his two passions - film making and Brooke.

But just how final is this finale? There's no denying the popularity of remakes, revamps, and the ever-trendy "reimaginings" these days. The CW's "90210" comes to mind, of course. This season alone, The CW is developing two series -- "The Carrie Diaries" and "Beauty and the Beast" -- based on television shows that wrapped years ago.

It's only natural to wonder whether "One Tree Hill" could resurface, whether as a reunion movie or a revived series. Zap2it checked in with creator Mark Schwahn for one last "One Tree Hill" chat this week, and he told us that he'd certainly consider visiting Tree Hill again in the future. | Continue reading...
Posted at: 7:19 PM EST by Nelly | back to top


Quick Site Links: About the Show - Meet the Cast - Episode Guide - Media Center - Music Guide - Fashion Guide - Photo Gallery - Fan Interactive - Web - Site Information - Global - HOME