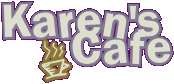 © 2005-2008 One Tree Hill Web


to Karen's Café! The best source for bringing you all your favorite quotes and books featured on One Tree Hill as well as spotlighting two of your favorite television moms, Karen Roe and Deb Scott. We've received so many request from all of you to add quotes to our site, or you've emailed us asking for Lucas' episode voiceovers -- or even what book he's reading. Because of those request, we have created this branch of OTHWeb to provide you with more OTH fun! Check out this very unique site and have fun! Thanks for visiting!

NELLY & CORTNI
the webmasters





Last Updated: May 11, 2008


Nothing says 'relax' like warming up to a hot cup of coffee (or cocoa) with a great book on a quaint corner café. Choose from novels by authors such as, John Steinbeck, Nathaniel Hawthorne and even the classic William Shakespeare.


Head on over to Karen's son, Lucas Scott's book club & pick one out!




Everyone has a favorite quote from One Tree Hill, or maybe even several quotes. Somehow we always find ourselves re-watching episodes or search online to jot them down for fan-art, layouts, profiles or even your AIM away messages. The problem is, you don't have time to go through every episode to find a quote you like, or sometimes the one you want -- you can't find online. Problems solved!

Here at Karen's Café, we've been compiling all your favorite quotes, from conversations, wedding vows, time capsule confessions and even Lucas' voiceovers -- we have them! Click here to check them out!






Karen's Café is located on the corners of Front & Grace Street
in the heart of picturesque Wilmington (aka Tree Hill), North Carolina. Come visit us!

NOTE: Due to the café being closed down on One Tree Hill, the Clothes Over Bro's store
has now taken over the location. You should still check it out, it's a great tourist spot for any fan!